FIFA constantly has to improve if it wants to better the amazing Pro Evolution Soccer series. So how does the 2008 version do, the first on the PS3?
Gameplay: 90%
The Gameplay has taken a massive improvement as the game flows nicely and it definitely feels like a better game. The keepers are good, but make the odd screw-up, while the AI defenders have got better and will tackle you quickly, so you need to shield the ball more and look to keep possession. This means you have to play a skillful and clever game as the long ball tactic just loses you possession too easily.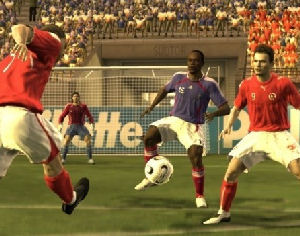 It now seems harder to score from long range, but it's not impossible, however headers are much easier to execute, and so if you have strikers who are good headers of the ball it can pay to use the wings and put over decent crosses. Discipline can be an issue in FIFA '08 as the referees are tougher, and so the players can get booked and sent off quite easily.
As for the game modes, the best one is still Manager Mode, and is the one I play the most (see the FIFA '06 and '07 reviews if you're unfamiliar with the Manager Mode).
As the Gameplay is much better you won't want to simulate results in as many games as previously. This highlights the fact that it's an improved game, while the players stats are very realistic, which overall makes the whole game that bit better.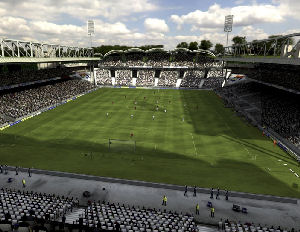 Graphics: 96%
The graphics are probably the best part of this game as they have taken full advantage of the PS3 graphics system. The players look real, the stadiums look great, and the pitches look realistic. Overall the graphics are amazing.
Sound: 80%
The music soundtracks are slightly annoying, and not as good as in FIFA '07 which is a shame, but the match commentary is great and ties in nicely with the new gameplay.
Online: Yes
Playing online is good because the gameplay is relatively fluent, and has little lag. This must have been hard to pull off given that sometimes you're playing people the other side of the world, and so the on-line play is enjoyable.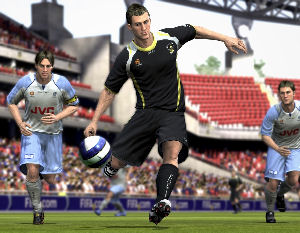 Value: 82%
Manager mode is great, which it has always been, and you will have hours of fun with the team you run. Some of the other new modes are not as good though which is a bit of a let down, and lowers the score.
Conclusion:
This football game is an improvement on last years FIFA '07, but not enough to outscore it. While the move up to the PS3 has seen good graphical improvements, there doesn't seem to have been enough progression elsewhere, however it is still a great game.
Overall Score: 87%