This superb and popular footie game has always been just behind great rivals 'Pro Evolution Soccer'... until now, as FIFA '07 shines to become the best football game.
Gameplay: 90%
From the first whistle in FIFA '07 it is obvious that the new game has been improved, it's not just an annual update, and the changes to the gameplay have been done in a good way. In the game they have upgraded the shooting a lot, with success depending partly on where you are and which is your stronger foot. If you are right footed and you're running and about to shoot on the left side of the box the chances of it going in are very unlikely, while if you're approaching from the right or more central, it could go in. The enhanced AI ensures that your players make realistic decisions, finding space, making good runs, and passing like professional footballers would. Off the pitch, player values and wages have been improved to be more up to date and realistic.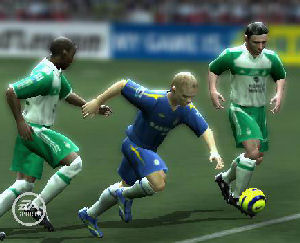 The game modes remain the same but they have slightly altered the manager mode. The best introduction to the game though is the new player growth system, which is very realistic and simple. In brief, it is a fact that players under 25 usually get better, while those over 30 generally decline in skill as the peak age for a footballer is roughly 25-30. Therefore in the game, players like Giuseppe Rossi and Theo Walcott become incredible (Walcott starts off with a skill rating of 76/99 and in ten years he becomes 99/99, while players like Jens Lehmann start off as 86/99 and in five years decline to 66/99). Therefore the game becomes very realistic, and the need for youngsters is never ending, but if you get a good scout to go out and search, he will find you some good youngsters every now and again. The youngsters usually start off at around skill level 40-60, but get better as they approach their peak.
For Arsenal fans - Wenger has really helped you as all the youth players become pretty good or 'allstars'.
Graphics: 91%
The graphics in the game are very good, and have also been improved. The player faces are very realistic, and pitches start to look rough during the winter and towards the end of the season.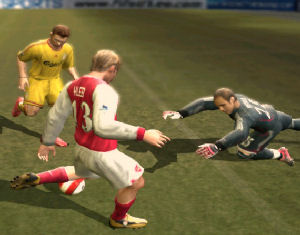 Sound: 92%
The commentary is pretty much the same as last time but it is still really good, while the crowd chanting is excellent with the noise building up as your team attacks more, while they go rather quiet if you're struggling. As always the music soundtrack is good, and they've managed to include some great songs from this year (and some not so good ones!)
Value: 95%
The game lasts a long time with the new more in depth manager mode, and several other modes. It's going to keep me going for a long time, and I don't think it will disappoint many of you.
Conclusion:
This new and improved footie game is up there with the best, and if you're a fan of the FIFA series, or football in general, you can't fail to enjoy this. Pro Evo - you have met your match!
Overall Score: 92%