Which game would be better for you if you only plan to buy one of them?
In this 'head to head' we compare the first versions of
the rival FIFA and Pro Evo series to come out on the PS3.
Gameplay: FIFA - 90%, Pro Evo – 95%
For years Pro Evo has had the better match gameplay, and it's no surprise that it retains this advantage in the 2008 PS3 version. Pro Evo has introduced a new AI system called 'Teamvision' (more info in the Pro Evo '08 review), but while it is a clever system, it possibly has an unintended consequence in that the AI team plays too much like you do, however the gameplay is still superb.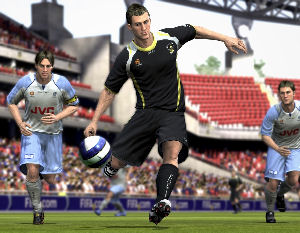 FIFA have obviously made an effort
to try and catch up with the quality
of the match gameplay, and it is definitely a better game for it. Part of this seems to be because it's harder
to play, whereas at times Pro Evo can be a little on the easy side, and so
the challenge of succeeding in FIFA '08 becomes great entertainment.
The tempo of the matches are different in both games. It is faster in Pro Evo, while the build up in FIFA is a little slower. The only problem with Pro Evo here is that the opposition doesn't increase their tempo when losing, and still pass the ball about as if they were level which makes defending a little easier.
The main game modes in both Pro Evo and FIFA remain good fun if you like to
have a career at a club. While the Pro Evo 'master league mode' is enjoyable,
FIFA's 'manager mode' still rules if you like to get more involved in the off-the-
field activities such as transfers.
Graphics: FIFA - 96%, ProEvo – 78%
Now they have moved to the PS3 the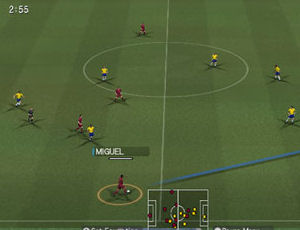 graphics in both games are good, especially if you have an HD TV. While getting a low score, Pro Evo's graphics are still good, but the frame rate can sometimes seem slow. On the positive side though (and this is great fun) if you have an eye toy you can take a picture of yourself and merge it into a player that you can customize (hair colour and length etc) to create yourself as a player! FIFA's graphics are superb though, and the fact they have all the licenses mean the stadiums are very accurate, while the match game graphics are amazing. You can create yourself as a player in FIFA,
but it's not as much fun as it is in Pro Evo.
Sound: FIFA - 80%, ProEvo – 87%
Both games seem to have improved the quality of the match commentary which is good. The difference in the scores is that in my opinion the music soundtrack is much better in Pro Evo.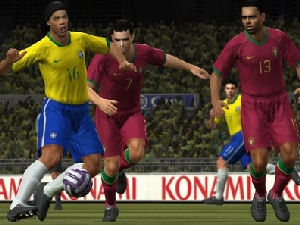 Online: yes
Both games have online play. FIFA's is much better at the moment though as there is very little lag, while you can get online transfer updates after each transfer window closes. I don't think Pro Evo's online system was actually finished when the game was released, and it was awful to begin with! There have been improvements since then but it's still not as good as FIFA's online play.

Value: FIFA - 82%, ProEvo – 85%
Both games will keep you happy for months. A new reputation system in Pro Evo's master league mode means it will take you a while to build up a quality team, especially if you are at a club with a lower reputation to begin with. This makes the game more challenging and adds to its lifespan. FIFA's manager mode is superb and will also keep you busy; however the lower score is due to some of the other modes in the game which aren't as much fun.
Conclusion:
Both games are excellent and you should have hours of fun with both. If you only intend to buy one though, then the decision is all about what type of football game you want. If you just want to play football matches then Pro Evo '08 should be your choice. If, however, you also enjoy the management part of football, then FIFA '08 would be better for you.

Overall Score: FIFA '08 - 87% Pro Evo '08 - 86%