This European Championships football game has no
club teams, only national ones, so is it worth playing?
Gameplay: 95%
Wow, this game has got the best football gameplay I have ever played! EA Games have finally figured out how to match Pro Evo's gameplay, as well as to improve on their own FIFA 08 game. It really is good, as each part of the gameplay is brilliant and it has no obvious faults. The AI is better, player movement is better, defenders defend better etc.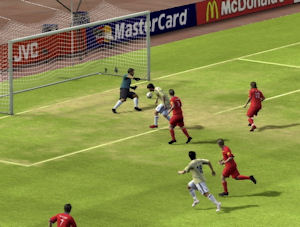 In UEFA Euro 2008 you can play as any of the international teams that are eligible for the European Championships, and you can start at the beginning of the qualifying campaign or go straight to the finals themselves. What I like about this game is the fact that you can be countries like Andorra or Kazakhstan. It's stupidly enjoyable, and a good challenge, trying to win the European championships with a country like Kazakhstan.
This game has various modes, including a very impressive 'Captain your Country' mode, where you the play the tournament with one player from a country. He can be created, or can be a player that already exists, but the idea is to control him through the whole tournament rather than just in one game, and ensure his performances are good enough to be made captain by the final. This game mode is my favorite mode because you can actually create yourself, put yourself in the game, and try and win the tournament.
EA Games have also included a penalty shootout mode which is brilliant if you don't fancy playing a match. You can spend ages doing penalty shootouts with England vs. Portugal, and trying to save Cristiano Ronaldo's penalties. There is also a mode called 'Story of Qualifying' and it's basically events that happened in recent championships, and you either help one country to change history or help a country make history.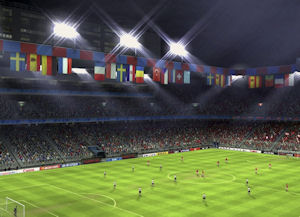 Graphics: 90%
The graphics are another impressive side of the game. The match effects are fantastic, and it really has moved a notch ahead of all recent football games. The pitch quality in each country is different and fantastic, while the weather has a bigger impact on playing styles as when it rains a wet pitch will see the ball move quickly than on a dryer pitch, however muddy pitches can get quite sticky.
Sound: 95%
By far, this is the best commentary ever from a football game. Usually there is something annoying about it, but in this game both commentators are good and also know what they are talking about. The crowds are also good, and will be quite hostile when you're playing away from home during qualification.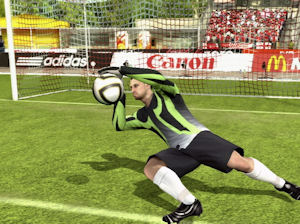 Online: Yes
There is a good online game mode where you compete in a tournament with a team of your choice. Given that you're playing human opponents it is very satisfying to win this tournament.
Value: 88%
Unfortunately there are no club teams, so the game is limited in that respect, but with the great gameplay, fun game modes, and mini games like the penalty shootout, you will be playing it for a while.
Conclusion:
Despite the fact you are limited to just a tournament, UEFA Euro 08 is probably the best football game I've ever played.

Overall Score: 92%