The Need for Speed sequels have been coming out for many years.
Some have been great, whiles others disappointed, so what is ProStreet like?
Gameplay: 79%
The storyline in ProStreet is different from the previous Need for Speed: Underground games. In this game you follow the legal racing career of your character, Ryan Cooper. As a result there are no cop chases or free roaming which you had in the previous ĎUndergroundí games in the series (when your character was an illegal street racer). Unfortunately the loss of those parts of the game are a step backwards in my opinion, and mean the game isnít as much fun.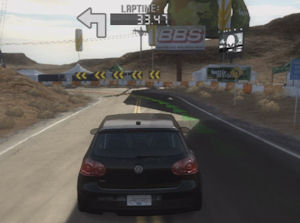 As for the driving itself, in all driving games the first good thing youíre looking for is the quality of the driving and how exciting it is. Unfortunately the driving in ProStreet disappoints a little. Part of the problem is that the cars you can drive in the early part of the game are fairly dull. It gets a lot better once you have unlocked a decent car like a BMW, Porsche or Lamborghini, but it takes a while to get there, and the journey is too long and lacks excitement.
There is also only one difficulty level, so if youíre brilliant then the game will be a piece of cake, but if youíre awful then you might struggle.
Itís not all bad news though. The best part about the game is the customization which remains impressive, and there are more cars than ever, with many different models to drive as you progress through the story.
Graphics: 85%
The graphics are very good. The cars are very detailed, and everything you can customize on your car just looks great. They also look really good when theyíve been smashed up a bit in a race. The courses look good too, as does the surrounding scenery.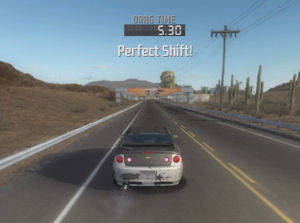 Sound: 90%
The sound is great. There is a good variety of car sound effects, and itís very enjoyable when you have a beefy car like a Mustang and you turn your TV volume up high!
Online: Yes
You can create your own race online, picking a track race type, and available cars. To be honest I didnít spend much time online, I raced a few times but it seemed much the same as racing a computer opponent.
Value: 75%
There is very little to do apart from track racing, which is a shame. The lack of free driving, which previous games in the series have had, also shortens the lifespan of the game.
Conclusion:
The change in direction in this sequel, from illegal to legal racing, has not improved the game, and without free roam there is less to do, and so unfortunately Need for Speed ProStreet disappoints.
Overall Score: 82%