West inflicted Rangers first league defeat of the season in this tightly contested game to close the gap at the top of the table. The team began brightly, with George Figg and Matt Peckham in particular passing the ball well and creating a few good attacks, although there were very few decent scoring opportunities. At the back, the defence were holding out strongly against the league leaders, with Jamie Heaffey in particular defending well so that Martin Robinson in goal was rarely threatened.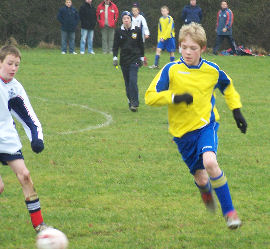 As the first half continued, West's greater possession resulted in a few scoring opportunities, one of which was from a header by Matt that was on course for the bottom corner until the Rangers keeper got his fingers to it. Two further chances came shortly after, both from corners cleared by the Rangers defence which Jamie met just outside the area; unfortunately the first shot went over while the second was blocked. With half time approaching West had another scoring chance as a great cross by Matt was met by Carl Biggs, but his header went over the bar.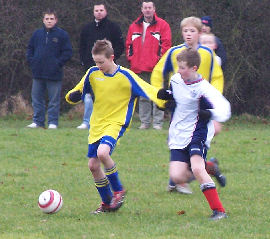 The second half began more evenly, and there were very few good scoring chances for either side early on, however Rangers began to raise their game and looked the more dangerous team with a couple of shots that went just wide. Some resolute defending though from Jamie, Ryan Maher, Charlie C, Myles Smith and Stuart Cole saw Rangers fail to create any decent openings. West however were struggling to get in the Rangers half and the midfield were finding it hard to dominate as much as they had in the first half.

Seven minutes from the end though the deadlock was broken, as following a blocked shot from Scott Howlett the ball was only cleared to Matt whose superb lob left the keeper no chance. They then faced pressure from Rangers trying the grab an equalizer but defended strongly, and could even have scored twice more on the counter attack. West held on for the win though, which was fully deserved against a good Rangers team who had beaten them twice in close 2-1 score lines in November (once in the Cup), while in closing the gap between the two sides makes promotion a realistic possibility if they can continue the good form.