Berkhamsted Raiders vs St Albans (9th October)
U13 West began this game strongly and started creating chances almost immediately as the Raiders keeper saved decent opportunities from Luke Jeffery, Charlie Craigen and Ross Whinnett. West finally opened the scoring after twelve minutes when Ross headed the ball to Scott Howlett who lobbed the keeper, and then three minutes later doubled the lead following good work from Ryan Rickard. Carl Biggs, after a great run down the left, nearly increased the lead after an excellent cross was almost fumbled into the net by the goalkeeper. Scott had further chances to increase the lead before half time, but at the interval the score remained 2-0 with West dominating play, and Martin Robinson in goal having very little to do.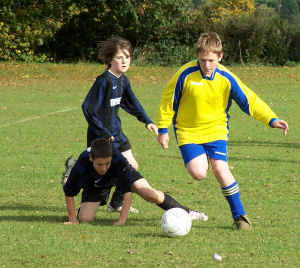 Raiders began the second half much stronger, and after five minutes their pressure paid off with a goal after the West defence failed to clear the ball, but that seemed to spur our boys into raising their game. Soon after, Carl won the ball just outside the Raiders penalty area and unleashed a great shot to make it
3-1, while Scott then completed his hat-trick in getting to a Ross flick on from a well taken corner. West were now in complete control, and soon had the ball in the back of the net again before the referee disallowed it for a push on the keeper.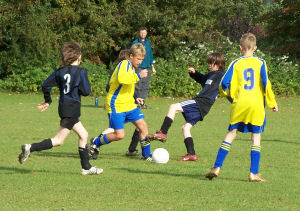 More goals arrived not long after as Ross ran with the ball from virtually the half way line before shooting from the edge of the area to make it 5-1. The sixth goal came after Ryan R played the ball to Luke who scored a much deserved goal with a great strike to beat the keeper, while the final goal was scored by Ross whose looping shot bounced in front of the keeper and over him into the net.

The 7-1 score line was fully deserved as the team had dominated virtually the whole match, and carried on the improvements seen in each game this season. The defence played well to limit the Raiders chances, and the midfield passed the ball very well, while with seven goals between them, the strikers certainly gave the Raiders defence a day to forget.
Final Score: Berkhamsted Raiders 1-7 St Albans
Joint man of the match: Ross, Jamie and Carl