We're all used to football, golf and driving games, and so this offering
makes its mark as a good alternative to the usual sports releases. Given
that this is the first rugby game I've ever played, I was interested
to know whether it would be really fun, or too difficult.
Gameplay: 88%
There are a number of different competitions you can take part in, such as the Six Nations, Guinness Premiership, and World Cup. The main game mode is the 'World League' where you choose a team not doing so well, start off in Division Three, and try to make your way up to the elite league and become rugby world champion. You also have certain off field aspects to manage in this mode, as you have to monitor your overall team wages while trying to improve your squad by swapping players that would be interested in joining your club. The other main game mode is Rugby World Cup 2007 in which you choose one of the teams that participated in the tournament, and it is great fun.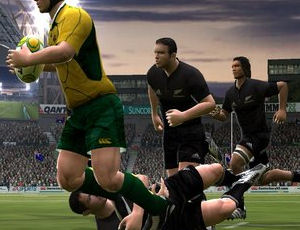 The gameplay seems to be quite realistic, and is probably harder for beginners because of rugby's complex set of rules. The game includes all detailed set-plays like the scrums, line outs and penalties. With football games it is all about keeping possession, whereas with rugby you can choose many different tactics for your team to try. You can attempt to run your way through the opposition, hoping for a breakthrough, or you can kick your way through to the opposition half.
Both tactics have their flaws though, as in trying to run your way through with the ball you could be turned-over in your half, whereas you can also kick your way through but then you might not win the line-out (which will also mean a loss of possession). This means there are a lot of decisions to be made when playing, which rugby fans should enjoy.
The controls are fairly good which also helps. The left stick is used to move a player, while the L1 and R1 buttons are used to pass left or right of the player with the ball. Tackling is done automatically, and all you need to do tackle an opponent is move your selected player into the opponent's path, and hit them with a tackle. Other buttons have various uses, and there is a tutorial which helps you when you're a newbie.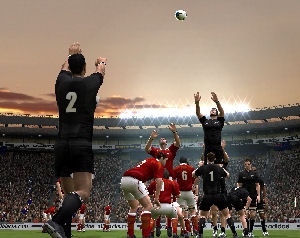 Graphics: 90%
Bearing in mind that this game is on the PS2, its graphics are really good. The players look pretty good, as do the stadiums. I regularly visit one of them for football matches (Vicarage Road) and the version of it in the game is excellent. The pitches also look very good as during the game it gradually gets muddier depending on where the play has been. Overall, excellent graphics for a PS2 game.
Sound: 92%
You don't very often get a game with amazing commentary and sound, but this game offers exactly that. The background music is good, and doesn't make you want to turn the volume down, while the match commentary is excellent.
Value: 85%
With two addictive game modes to play, and great overall gameplay, you could be playing this game for hours, especially if you're a rugby fan.
Conclusion:
Overall this game is pretty much a masterpiece as they use the PS2's lower capability perfectly by getting as much out of the console as is possible. If you've never played a rugby game before, or want to learn a little more about it, then Rugby '08 is a great place to start.
Overall Score: 89%