Pro Evolution Soccer 4 is the newest version of the popular football sim. All the previous versions have been highly rated, but will this 4th release be as good?
Gameplay: 98%
In Pro Evo 4, you take control of a team and not only play the matches, but you can buy and sell players as the player/manager. As in similar games, there are various game modes: Practice/Training, which when you are a beginner is really helpful; Match, which is an exhibition match where you can be any team in any stadium; League, which is when you want to play a quick season where you canít buy or sell players, and is fairly easy; and Master League, where you can pick a team and starting division and try and make your way to the top (which includes player transfers and playing in Europe). Finally there is a Cup mode in which you can compete as a country in international tournaments.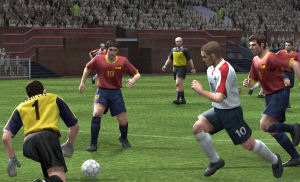 Playing matches is entertaining because of the realistic passing and shooting, however crossing and headers are weak points because they are bit too hard to master. In some games goalkeepers can either be awful or unrealistically amazing, but in this game the makers have got the goalkeepers skills just about right.
On the management side, you can spend you earnings (from match results, prize money and player sales) on improving your squad. I feel is can be best to buy young players (under 21ís) as they can improve a lot over the course of a few seasons.
It should be noted that some of the major leagues are not licensed. This means that some club and player names are modified, e.g. Liverpool are called Merseyside Red, but you can edit them yourself so itís not a major problem.
Graphics: 90%
The overall graphics are very lifelike, with good pitches and fantastic stadiums, while the player faces score well. My only complaint is the crowd detail is a bit dismal.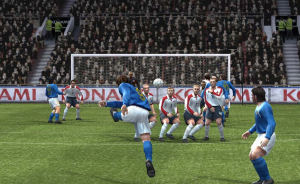 Sound: 70%
The background music that is played between matches is okay, however the match commentaries (from Peter Brackley and Trevor Brooking) can be poor from a technical point of view e.g. following an accidental shot from the half way line, the commentator suggested the shot should have been taken a little further back!!
Value: 92%
If you are a football fan this game will have an almost infinite lifespan.
Conclusion:
Despite the odd area that could be improved, the fantastic gameplay and infinite lifespan make Pro Evolution Soccer 4 the best football experience ever.
Overall Score: 93% (not an average)