This latest version of the LMA Manager game is a fine example of a game
that is challenging the Football Manager series. It looks amazing graphically,
and plays very well.
Gameplay: 92%
I think that this manager sim is amazing with you (the manager) in total control of your favourite team in every way. You now have more control over training, while there's also more staff detail involving your team coach's and assistant managers. There are also more stadium choices compared with LMA 2005, and a new transfer system that will get you even closer to the real thing.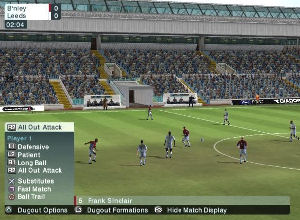 This new transfer system is a little harder than in previous LMA games though, because although there is a very good search option to help you find players, teams won't sell you their star players easily. You will also struggle to buy better name players if you are at a smaller club even if you have the money, and overall it can be quite hard to build a squad of stars of you're only at a smaller club.

There is a Fantasy team mode as well, where you choose your league and division, then you will get an overall budget and a wage budget, and then you can try and get players from any team in the world, but you have to take care that you don't spend too much money too quickly.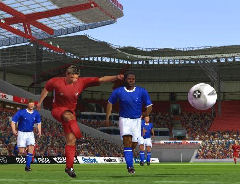 Graphics: 93%
The in match visuals are incredible, especially for a management game, as a new 3D game engine gives you the ultimate way to watch your team win with hunger, or fall flat on their faces.
Sound: 79%
There is no commentary in this game, just some decent music for you to listen to.

Value: 96%
I personally think that this game has an almost endless lifespan, and is very addictive, because it always makes you want to play the next game in order to get closer to the end of the season.
Conclusion:
Although there appears to be little difference between the 2005 and 2006 versions, I think LMA Manager 2006 beats all the previous versions, and is the second best manager game on all consoles. FM's database maybe larger than LMA's, but if you like football management games you will be playing LMA for a long time.
Overall Score: 90%