This unique cricket game gives you the chance to experience playing cricket from county matches, all the way up to trying to win the Ashes or the World Cup.
Gameplay: 84%
This game is a great replica of the many different forms of cricket, from limited over games all the way up to test matches. You start out by selecting the team you want to be, (which can range from county sides all the way up to the major world test sides) and the length of match, which can be 10, 20 or 50 overs, or even 4 or 5 day test matches.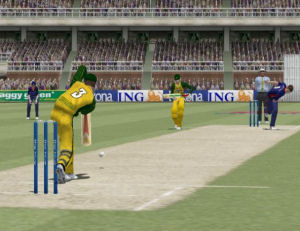 You have the option to amend your starting eleven players; but I just tend to pick the default teams. Each player has its own individual stats, with the batsmen's stats including how good he is at attacking or defensive shots, and how well he can play different types of bowlers (fast or spin etc). The bowler's stats range from their style of play, accuracy and stamina etc.
Playing the game is fun. Bowling is hard to begin with but gets easier with practice. You pick the area you want the ball to aim at, and select how much spin and speed you want. Batting can be hard, as you have to select your shot carefully if you want to have a decent innings.
Graphics: 82%
The graphics are good enough but nothing special. The cricket grounds and the players are pretty good; however the crowd graphics look a bit weird and flat, and could be improved a lot! When playing matches though, the bowlers, batsmen and fielders look good and move in a realistic way.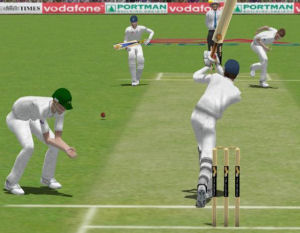 Sound: 86%
For a game that doesn't really need fantastic sound, it is actually very good. This is partly due to the excellent commentary from Richie Benaud, which has a lot of variety and isn't too repetitive. The crowd sounds are timed well with the volume rising as the bowler makes his run-up to bowl.
Value: 89%
This game has a good lifespan because there are a good number of match lengths, and if you were to start a season long championship it wouldn't get boring.
Conclusion:
Cricket 2004 is a great game if you like cricket. With all the different game options from quick short matches to longer test matches there is something here for everyone. The longer matches can take quite a while compared with other sports games on the PS2 e.g. football matches (especially if they are a bit one sided) but overall, this cricket game rises to the challenge in comparison with other sports games.
Overall Score: 85%