The Formula One series on the PS2 has been going for a while now, and this version has improved a lot on the previous ones. In fact, almost everything has improved.
Gameplay: 87%
As always, the key factor in any game is its gameplay, and this version of the Formula 1 series doesn't let you down. I thought that the handling in the last game had improved, but in this game it gets even better again. Generally the racing is much harder, which makes just that little bit better, but this is largely to do with the way your car handles at different speeds.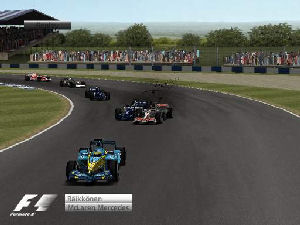 The main game modes are Quick Race, where you just pick a driver and a track, and you're off; Race Weekend,
a race weekend which gives you the opportunity to do practice sessions and qualifying, and then choose how many laps you would like to do; and my personal favourite, Career Mode. In Career Mode you start off without a team, and this gives you the chance to trial for the three worst teams. For instance when I started I had trials for all the three teams and the first two refused me a drive! Of those three teams, the best is Toro Rosso, then MF1 and the worst team is Super Aguri. I got the job as second driver at Super Aguri(!), and it starts off very hard as you are with the worst team, but if you can put in a few good performances you will get promoted to the main team driver position.
In my second season I got offered the job of second driver for MF1, and again it was very hard, but if you manage to get into the points in the odd race there is a good chance that you will get promoted. About half way through my second season I decided to be a test driver at Toyota, and I found this to be a big mistake as the race times they wanted me to get were almost impossible. I then went back to MF1 as a the main team driver again, but shortly after this my whole career changed as I was offered the position to be the second driver at Redbull Racing, who are probably the sixth best of all eleven teams. When I joined them I started to get into the points more regularly which helped me a lot. As I write this review I am now at the start of my third season, and I am with Toyota who are probably a little better than my previous team Redbull.
To win races though you need good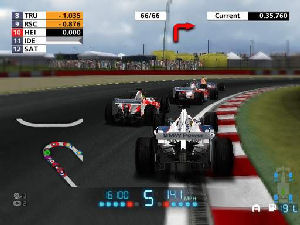 race tactics. This depends a lot on fuel usage and tyre wear. For example, say you start a nine lap race, in those nine laps you can choose to pit between laps three to seven, with the fifth lap being the most obvious one to choose. If you choose to take your pit stop on lap three for example, you can start the race with less fuel which obviously helps you go faster. If you do well in the first three laps before pitting, then after your pit stop you might be in last place but you will hopefully overtake everyone else while they are taking their pit stops and win the race.
The race qualifying part of the game isn't the best in my opinion, but overall the game is great, with the Career Mode the best part of it.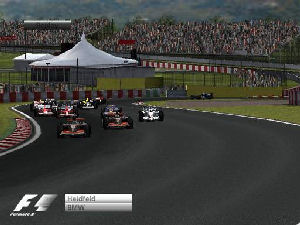 Graphics: 92%
The graphics in the game are very good and I specifically like the oil slicks, while the cars look very good as well. Overall the race graphics are excellent for a PS2 game.
Sound: 82%
The race sounds in the game are good, while the commentary is also good as it isn't repetitive.
Value: 89%
As highlighted earlier, just to get to drive a decent car can take up to three seasons, and that is a lot of driving. Then to win the Formula 1 title takes more practice and race experience, so if you are like me you will be playing this game for ages!
Conclusion:
This Formula One game has improved a lot on the previous versions, and so I am looking forward to seeing and playing Formula 1 on the PS3.
Overall Score: 88%